Teacher of English language, Budapest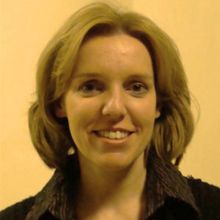 Közel tíz éve dolgozom nyelvtanárként, nagyrészt a felnőttoktatásban, leginkább egyéni hallgatókat oktatva.
Fontosnak tartom, hogy a tanítás alkalmazkodjon a tanulók igényeihez, érdeklődéséhez, gondolkodásmódjához.
Meggyőződésem, hogy annak, aki meg akar tanulni egy nyelvet, be kell építenie azt az életébe, használnia kell azt már az első lépésektől kezdve. Ezt igyekszem elősegíteni azzal, hogy az órai beszélgetéseken túl megmutatom diákjaimnak azon lehetőségeket és eszközöket, melyek segítenek nekik kialakítani a maguk testhezálló és hatékony tanulási módszerét.
Magam is állandóan kutatom az újabb eszközöket a tanításhoz, szeretek időnként új módszerekkel kísérletezni, hogy minél hatékonyabban tudjam segíteni diákjaimat.